DATA BOX: WHO's latest global leprosy update (2019 data)
Every year, the World Health Organization (WHO) receives official data on leprosy from national programs in member states worldwide. For the calendar year 2019, WHO received data from 160 countries. WHO released a report on this data in September 2020.
As part of its current 5-year Global Leprosy Strategy (2016-2020) to accelerate towards a leprosy-free world, WHO has recommended enhanced case detection. Compared to 2015, the year before the Strategy started, the 2019 data shows little change in the number of registered cases and the number of new cases detected. The prevalence rate per million population and the case detection rate per million population decreased, continuing a trend of gradual decline.
The number of new child cases decreased by about 20%. The number of new cases with visible deformities (grade 2 disabilities, G2D) decreased by 25.5%, and in Southeast Asia, the decrease was even more dramatic at 45.2%. A lower number of new child cases is considered to be an indirect indicator of a decrease in ongoing transmission in a community. A lower number of new cases with G2D indirectly indicates fewer instances of delayed detection.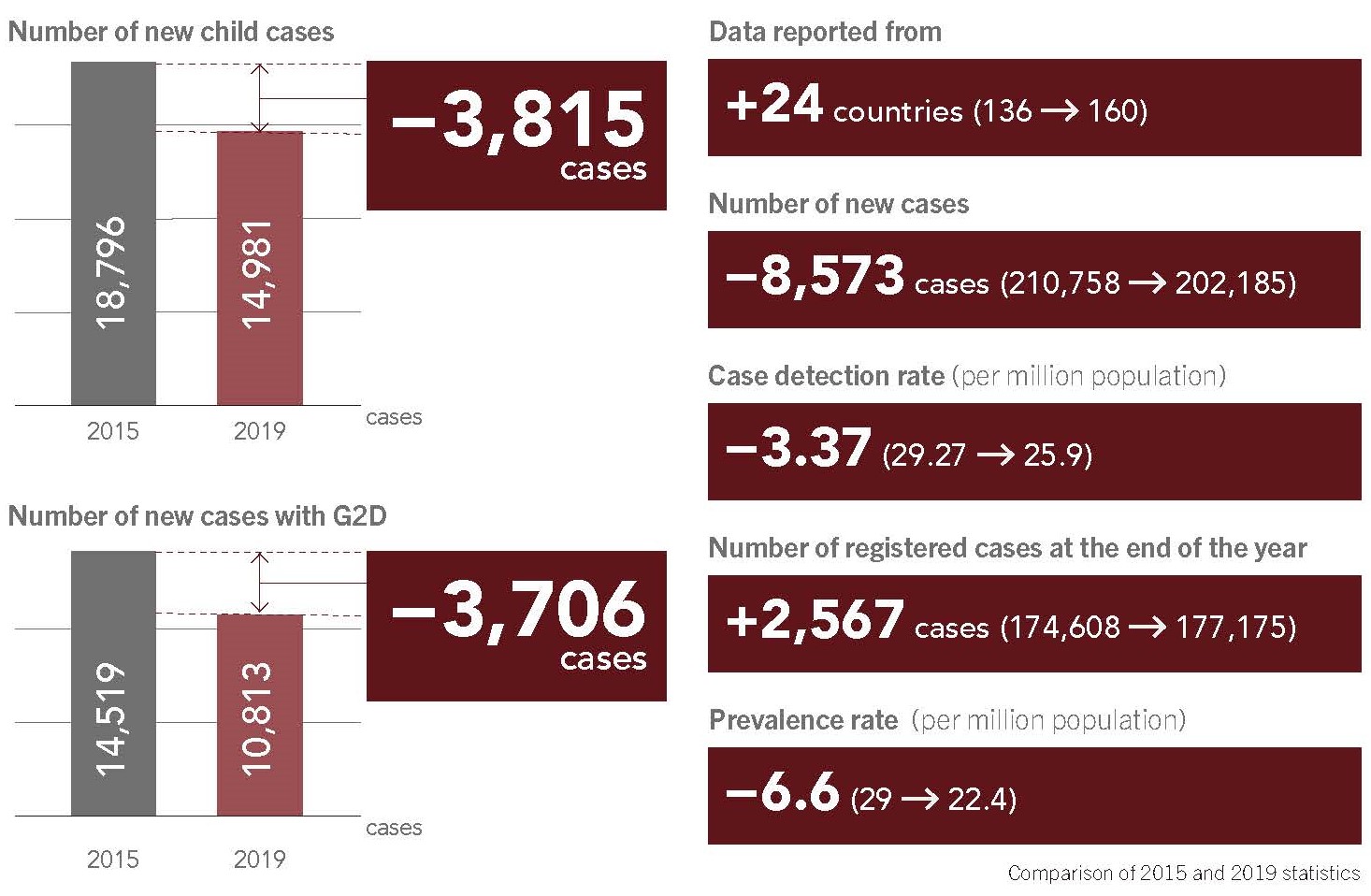 The report also shares information about progress toward the three targets to be achieved by 2020:
TARGET 1: ZERO G2D AMONG NEW CHILD CASES
As of the end of 2019, 123 countries had reported on G2D cases among children. Of these, 96 (78%) had reached the target. Globally, 370 new child cases with G2D were detected.
TARGET 2: REDUCTION OF THE RATE OF DETECTION OF NEW G2D CASES TO LESS THAN 1 PER MILLION POPULATION
As of the end of 2019, the rate of detection of new G2D cases was 1.36 per million population at the global level. Of the 132 countries that reported, 92 (69.6%) had reached the target.
TARGET 3: ZERO COUNTRIES WITH LEGISLATION ALLOWING DISCRIMINATION ON THE BASIS OF LEPROSY
As of the end of 2019, 127 laws still remained in place in 22 countries.
Source: Weekly epidemiological record issued on Sep. 4, 2020.