Summary, Conclusions and Recommendations - Global Forum of People's Organizations on Hansen's Disease in Manila, 7-10 September 2019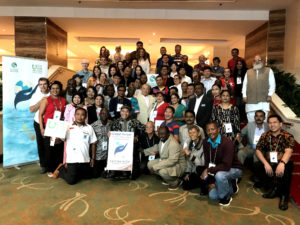 The first ever Global Forum of People's Organization on Hansen's Disease was wrapped up in Manila, Philippines, on 10th Sept. after four days of discussion and deliberation. About 60 members of 23 people's organisations from 18 countries have participated as well as more than 20 stakeholders from various backgrounds.
The main outcome was a set of recommendations, which included participants stating that those affected by the disease should have more inclusive roles in the global campaign against leprosy. The recommendations made by the participants of the Forum were declared to global academics, scientists, researchers, health staff and partners during the opening session of the 20th International Leprosy Congress (ILC).
The full text of the conclusions and recommendations is as follows;
Stories and posts by Inter Press Service News Agency are listed here.
GLOBAL FORUM OF PEOPLE'S ORGANIZATIONS ON HANSEN'S DISEASE
MANILA, PHILIPPINES
SEPTEMBER 7-10, 2019
Summary, Conclusions and Recommendations
The Global Forum of People's Organizations on Hansen's Disease was held in Manila from September 7 to 10, 2019.
Organized by The Nippon Foundation and Sasakawa Health Foundation, the Global Forum brought together representatives of 23 People's Organizations from 18 countries. Over 80 people attended, including observers and resource persons.
It followed three regional assemblies held in Africa, Asia and Latin America/Caribbean earlier this year that laid the foundations for the Global Forum and helped to shape its agenda.
The Global Forum provided a platform for People's Organizations to share plans, ideas and experiences, learn from each other, receive training aimed at strengthening their capacity, make recommendations and provide a "people's perspective" on Hansen's disease to international organizations, national governments, partner institutions, media and other stakeholders.
The title of the Global Forum took into account the concerns and recommendations from the African and Latin American/Caribbean assemblies regarding terminology and self-identification. This resulted in using the term Hansen's disease and not leprosy, and People's Organizations on Hansen's Disease rather than Organizations of Persons Affected by Leprosy.
Over four days, the Global Forum addressed a number of themes that People's Organizations have identified as important to them in terms of their organizational capacity, sustainability, and capability to meet the expectations of the people they represent.
There were training workshops on social enterprise, fundraising, management and networking. There were plenary sessions on human rights, sustainability and public health, followed in each case by group discussions.
There was also a proposal to organize a joint campaign for World Leprosy Day 2020.
The Global Forum underscored the fact that Hansen's disease is not just an issue of health but an issue of human rights. Efforts against Hansen's disease will not be successful if they only treat the bacterial causative agent and do not address the disease's physical, psychological, social and economic consequences.
Although the disease is curable, it is still stigmatized. The continuing stigma remains a barrier to case detection, treatment and inclusion.
The Global Forum recognized that addressing issues of clean water, nutrition, good sanitation, housing, education and dignified work—issues that go beyond health—is critical to a comprehensive strategy against the disease.
The Global Forum noted that in a time of lowered government priorities on Hansen's disease and the non-uniform distribution of cases, empowered People's Organizations on Hansen's disease are needed more than ever: to advocate for sustained Hansen's disease services that deliver accessible quality treatment and rehabilitation; and to promote dignity, equality and respect for human rights.
During the four days of discussions, participants in the Global Forum recognized that they have a responsibility not only to represent their organizations, but also all those who do not have a voice and were not present at the Global Forum.
Against this backdrop, the Global Forum came up with a number of conclusions and recommendations, as follows:
Conclusions and Recommendations
Hansen's disease is more than a disease caused by a bacterium. Poverty, institutional, social and political neglect, complacency and the structural invisibility of vulnerable populations contribute to the perpetuation of Hansen's disease.
There are still gaps in knowledge about Hansen's disease. More investments are needed to research and develop new diagnostic tools and effective anti-microbial treatments and for management of Hansen's disease reactions, and to develop new models to manage social aspects of the disease. Greater commitment from government, academic institutions and industry is needed.
National programs should strengthen timely case detection, disability prevention and rehabilitation during treatment, and develop services for care after cure to include psychological, social and economic rehabilitation.
The UN Principles and Guidelines for the elimination of stigma and discrimination against persons affected by leprosy and their family members should be widely disseminated and implemented by governments and civil society.
All remaining discriminatory laws and practices must be abolished. Although that would represent important progress, it would not be enough for the enforcement of human rights, for which affirmative and reparation measures and policies are needed.
Full and impactful participation of People's Organizations in policy-making processes concerning Hansen's disease must be assured.
Special attention must be given to the situation of vulnerable populations with Hansen's disease—especially women, children, immigrants, refugees, the elderly and the homeless—and those living in geographically inaccessible areas.
Governments should develop measurable action plans recognizing that not only the health ministry but other ministries and agencies must be involved collectively in resolving Hansen's disease issues.
People's Organizations should strengthen existing networks and create truly functioning regional and global networks. NGOs and governments should strive to support the formation and sustainability of these networks.
People's Organizations must actively advocate for quality Hansen's disease services within an integrated health structure and system and through their committed participation help ensure the sustainability of the Hansen's disease program.
Governments and other partners should be open and willing to fund projects that address the sustainability of People's Organizations in recognition of the contribution these organizations can make.
As a step toward reducing stigma and discrimination, there was strong support from some quarters of the Global Forum for the term Hansen's disease to be adopted as the official term for leprosy worldwide.
Although not on the formal agenda of the Global Forum, the participants recognized the importance of preserving Hansen's disease history and heritage as a record and a guide for future generations.
Participating People's Organizations (in alphabetic order)
Bangladesh   Bogra District Leprosy & Disability Development Organisation
Bangladesh    DAPA (Disadvantaged People's Association)

Brazil            Morhan (Movement for the Reintegration of Persons Affected by Hansen's Disease)
China            HANDA Rehabilitation and Welfare Association
Colombia       Felehansen
DR Congo      OPALCO (Organization of People Affected by Leprosy in Congo)/IDEA Congo
Ethiopia        ENAPAL (Ethiopian National Association of Persons Affected by Leprosy)
Ghana           IDEA Ghana
India             APAL (Association of People Affected by Leprosy)
India             Children United for Action
India             Samuthhan
India             IDEA India
Indonesia      PerMaTa Indonesia
Kenya           IDEA Kenya
Mozambique  IDEA Mozambique
Myanmar      MAPAL (Myanmar Association of Persons Affected by Leprosy)
Nepal            IDEA Nepal
Niger            IDEA Niger
Nigeria          IDEA Nigeria
Philippines    CLAP (Coalition of Leprosy Advocates of the Philippines)
Philippines    IDEA Philippines
Sri Lanka      IDEA Sri Lanka
Tanzania       TLA (Tanzania Leprosy Association)