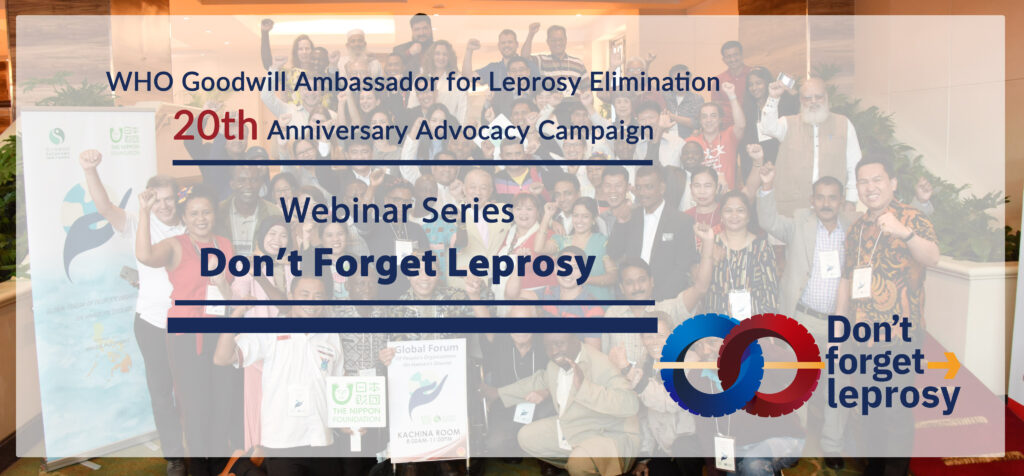 Yohei Sasakawa, The Nippon Foundation Chairman and WHO Goodwill Ambassador for Leprosy Elimination, was first appointed as a leprosy elimination ambassador in 2001.
To mark the 20th anniversary of his activities, Sasakawa Leprosy (Hansen's Disease) Initiative is launching a new awareness-raising campaign, "Don't Forget Leprosy", to help ensure that leprosy is not forgotten amid the ongoing coronavirus pandemic.
As a result of the pandemic, many initiatives against leprosy have had to be scaled back or suspended as resources are directed toward the fight against COVID-19. Of particular concern is the fact that in some high-endemic countries, there has been a 30% to 50% decrease in detection of new cases, which will lead to increased transmission of the disease and more cases of disability.
For communities of persons affected by leprosy that were already in a vulnerable situation, the impact of the pandemic has hit them disproportionately hard. Lockdowns implemented in many countries have made it difficult for patients to access treatment and medical services, have resulted in the loss of livelihoods and exacerbated the discrimination that persons
affected by leprosy already face because of the stigma associated with leprosy.
"Don't Forget Leprosy" calls attention to why we need to stay focused on leprosy and the consequences if we do not. The campaign includes a webinar series focusing on the following themes (see below). Each webinar will allow for discussion among stakeholders while also drawing lessons from the ambassador's activities using short videos.
"Don't Forget Leprosy" Webinar Schedule
1. Introducing the "Don't Forget Leprosy" Campaign
Date: August 4th, 2021  19:00-21:10 JST (+9)   Details(Video)
2. Leprosy as a Human Rights Issue
Date: September 29th, 2021  08:00-09:30 BRT (GMT-3) Details (Video)
3. Elimination of Leprosy in the World
Date: December 2nd, 2021. Details are to be confirmed.
4. Raising Awareness about Leprosy
Date: January 2022. Details are to be confirmed.
5. Elimination of Leprosy: Initiatives in Asia
Date: March 2022.  Details are to be confirmed.
6. Elimination of Leprosy: Initiatives in the Americas and Africa
Date: May 2022. Details are to be confirmed.
Past Webinar Series
Issues in Leprosy amid the Coronavirus Pandemic